A bad week on ebay....
I'm a horrible person.
Of course, I say this every time I have an ebay binge. It's not a real binge because I'm not going nuts and buying everything I think is remotely cute, but still, I feel a little crazy spending money at all.

I am so happy because my kitsuke book finally arrived here. It's Hiromi Ichida's book. My mom is so wonderful and said she will help me try my otaiko knot again this weekend and we can take some fancy pictures. I also promise to take a photo of my latest self-made bedlah.

What I bought this week was a haori for $9.96 (shipping included) which seems to be a cute dyed komon material made with a stencil. It's green and sweet.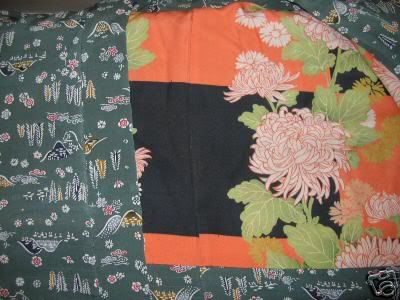 Then I bought the most expensive book I've ever bought (aside from my Biology textbooks from college *shudder*). The book itself wasn't that expensive, but it's being shipped from Japan and it weighs 3000g. You get the idea. I had to have it because it's an art book about a Japanese woman artist who I had never heard of before. From the seller:
Uemura Shoen (b Kyoto, 23 April 1875; d Nara Prefect., 27 Aug 1949) became a member of the Imperial Art Academy in 1941, and in 1948. She was the first woman to receive the Order of Cultural Merit.
Maybe it was that feminist part of me that thought it was totally awesome that a woman in Japan actually received that high an honor. Or, it could just be also that she is a spectacular painter/printer (I'm not sure what she worked in yet).


OMG.